How-to Sideload Snapchat onto the Kindle Fire, HD, & HDX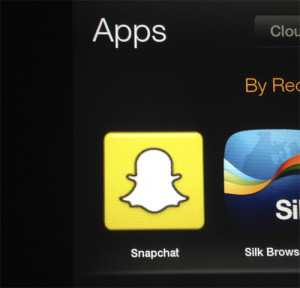 Snapchat is not available in the Amazon app store, therefore we will need to sideload the app onto our device. Learn how to install Snapchat, the popular messaging app, to your Kindle Fire. Snap a picture or video, add a caption, and send it to your friends. Now updated with chat and live video chat.
Enable Installation of Applications
For Kindle Fire & Kindle Fire HD: Settings > Device> Allow Installations of Applications
For Kindle Fire HDX: Settings> Applications >Apps from Unknown Sources
Download Snapchat Installation File
In the Silk Browser, download Snapchat installation file here: http://www.mediafire.com/download/pacha64alhlfc6l/Snapchat_5.0.5.apk (Chat Update)
Install Snapchat
After the file is finished downloading, go to the Download folder and open the installation file. This will install Snapchat to your Kindle Fire.