How-to Sideload WhatsApp onto the Kindle Fire, HD, & HDX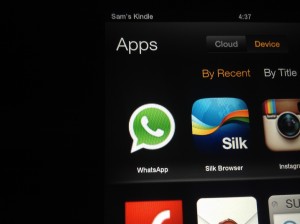 Learn how to install the popular messaging app, WhatsApp, to your Kindle Fire device. This tutorial uses a process known as 'sideloading' to install the app. Sideloading basically means manually installing the application to the device.The process does not require rooting or any modifications to your Fire.
Enable Installation of Applications
For Kindle Fire & Kindle Fire HD: Settings > Device > Allow Installations of Applications
For Kindle Fire HDX, Fire HD, & all other Fire Tablet: Settings > Security > Apps from Unknown Sources
Download WhatsApp Installation File
In the Silk Browser, download WhatsApp installation file here: http://rawapk.com/whatsapp-messenger-apk-download/
Install WhatsApp
After the file is finished downloading, go to the Download folder and open the installation file. This will install WhatsApp to your Kindle Fire.